Veterinarians in Noank, CT
Christopher Otka, DVM, Rph, CVA, DAAPM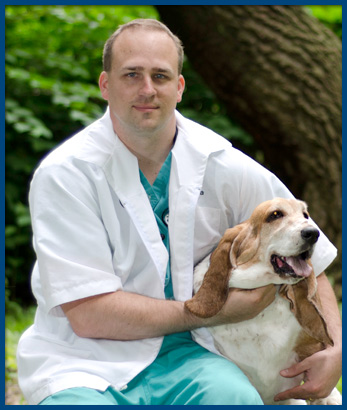 Dr. Christopher Otka said that becoming a veterinarian was a "natural choice." While growing up in Ashford, CT, he always owned exotic animals and was exposed to wildlife. It followed that he would want to go into a profession where he could help animals as much as possible.
Dr. Otka and his wife purchased Noank-Mystic Veterinary Hospital in January of 2012. What he still finds fascinating, he said, is the "extraordinary variability from day to day with regard to the species and diseases we see and treat." He remembers the time when he did an oral exam on an alligator and when he developed a prosthesis for a canary as two of the more memorable moments in his veterinary career.
Dr. Otka earned his undergraduate degree in Pharmacy from the Massachusetts College of Pharmacy in 2000, from which he graduated Cum Laude. He worked as a clinical pharmacist, specializing in pain management, chemotherapy and nutrition support.
Dr. Otka went on to receive his Doctor of Veterinary Medicine from Mississippi State University College of Veterinary Medicine in 2009. Today, he has professional interests in pain management, surgery, infectious disease, biopharmacy, acupuncture and wildlife medicine. He is certified in stem cell therapy, PennHIP and is a Certified Veterinary Acupuncturist in small animals. He is a diplomate of the American Academy of Pain Management.
He is a member of the American Veterinary Medical Association, and the International Veterinary Association of Pain Management.
Dr. Otka's wife, Deborah, is co-owner of the hospital and is a clinical pharmacist. They have two childen, and they share their home with a basset hound named Oliver and a Great Dane named Rory. Dr. Otka's hobbies include scuba diving, fishing, gardening, camping and boating.
Susan Donohue, DVM, MS, CVA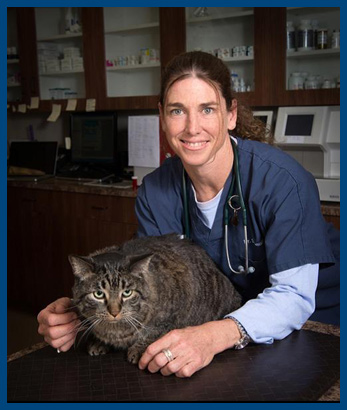 Dr. Susan Donohue grew up by the shore in Connecticut. After graduating from the University of Connecticut with a Bachelor of Science degree in Biology/Marine Biology, she traveled to Colorado to explore the veterinary world. She was a certified surgical, emergency, wildlife technician for 10 years prior to getting a veterinary degree. In 2004, Dr. Donohue obtained her Doctorate of Veterinary Medicine from Colorado State University. She completed an internship at Red Bank Veterinary Hospital in New Jersey and has recently become a licensed acupuncturist.
Dr. Donohue has an early background with wildlife and marine mammals and has recently worked with primates. Her experience as a veterinarian primarily lies in the areas of emergency and general practice medicine with domestic animals.
Outside of work, Dr. Donohue has a 13-year-old Welsh springer spaniel named Rain. She also has 3yr old daughter, Nora, and 1-year-old son Quinn. She hopes to continue being an avid outdoor enthusiast and outdoor sports fanatic.
Hours:
MON, TUES, WED, FRI 8-6 | THU 8-7 (8-2 every other THU) | SAT 8-2 | SUN 8:30-12:30