Your Pet's Surgery
Dr. Otka is a highly trained, skilled and experienced veterinary surgeon. He comes to this profession with a deep sense of compassion for all animals.
He also understands that the decision to allow your beloved companion to undergo surgery is never an easy one. This is why he strives to ensure your pet's procedure is as comfortable and stress free as possible.
Perhaps the most important pre-surgical step we take is to discuss with you why we believe a particular procedure is necessary and what it entails. We also provide information on proper postoperative care and answer any questions you may have so that you feel comfortable knowing you are making the right choice for your pet.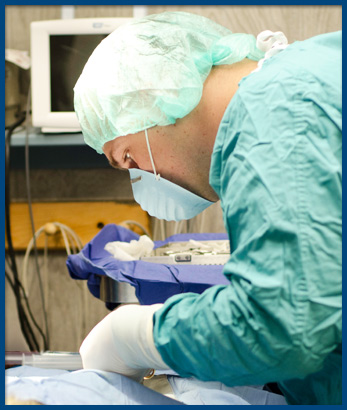 Dr. Otka and the staff at Noank-Mystic Veterinary Hospital believe it is in your pet's best interest for us to offer as wide an array of surgical services from our facility as possible. It is important for you and your pet to receive care in a friendly and welcoming facility from people you both have come to know in order to reduce stress and promote healing.
Soft Tissue Surgery
Noank-Mystic Veterinary Hospital offers a wide range of soft tissue surgeries that include, but are not limited to:
Mass removals
Laceration repairs
Cystotomy
Gastropexy
Intestinal foreign body removal
Enucleation
Anal sac removal
Declaw
Resection and anastamosis subtotal colectomy
Nasal planum resection in feline patients
Ventral bulla osteotomy
Salivary mucocelle removal
Ear hematoma repair and many more.
Spays & neuters for dogs, cats and exotics
Caesarian sections
Orthopedic Surgery
Companion animals, especially those in their later years, also can suffer from a range of joint and ligament injuries and maladies, such as arthritis. Some species of dogs are also highly prone to these types of injuries and illnesses.
Because orthopedic care is an important component of keeping your pet healthy, we offer cruciate repair on a case by case basis. The most appropriate technique for cruciate ligament repair is determined based on the needs of the individual animal.
If the preferred procedure cannot be performed in-house, we refer you to a board certified orthopedic surgeon at Pieper-Olson Connecticut Valley Veterinary Associates located at 730 Randolph Rd Middletown, CT 06457. For more information on advanced surgeries, give them a call at (860) 347 - 1122.
Unique Surgery
Dr. Otka performs:
Avian prosthetics procedures
Beak repair
Shell repair
Please inquire about these specialty services.
Cryosurgery
What is it?
Cryosurgery has been used in veterinary dermatology for several decades and is used to treat many types of skin lesions. The advantages of cryosurgery include easy application, short treatment time, high success rate, and modest treatment costs.
No Anesthesia is necessary!
Cryosurgery eliminates anesthesia related risks because it is not required for the procedure. This is especially beneficial to older pets.
Anesthesia & Monitoring
Anesthesia protocol is decided on at the time of surgery based on your pet's individual needs. Ensuring the health and safety of your pet during surgery is of the utmost importance and requires an anesthetic and monitoring regimen that adheres to the highest principles and ideals of veterinary medicine. At Noank-Mystic Veterinary Hospital, your pet has access to state-of-the-art anesthetic administration and cardiovascular monitoring equipment and protocols.
Prior to your pet's surgery, he or she is examined and a pre-surgical blood screen is performed in our laboratory. The results of these tests and your pet's past anesthetic history, breed, preexisting conditions, and age are used to create an individualized anesthesia protocol for your pet.
While under anesthesia your pet is cared for by a well-trained and experienced veterinary technician using our monitoring system, which tracks blood pressure, heart rate, respiratory rate, body temperature, and oxygen level.
Pain Management
Pain hurts, but it also has many other detrimental effects on your pet's body.
Pain slows healing, decreases activity, causes behavior changes (such as aggression, anxiety, and depression), it worsens diseases like arthritis and potentially some cancers. Pain also interferes with the bond between you and your pet.
In order to combat the effects of pain, your pet may receive an injection of extended release pain medication which reduces the need for oral at-home medication following surgery.
Postoperative Care
As your pet is being discharged from the hospital, we provide you with detailed information on how to properly care for your pet after surgery. We are also happy to answer any questions or concerns that may arise once you get your pet home.
Hours:
MON, TUES, WED, FRI 8-6 | THU 8-7 (8-2 every other THU) | SAT 8-2 | SUN 8:30-12:30