Nutrition & Allergies
Nutrition Counseling
We offer prescription diets and nutrition counseling as needed during office visits.
Why is this important? Pets are living longer, healthier lives than ever before and a big part of that is due to our expanded knowledge of the importance of proper nutrition to overall health. In fact, nutrition is the biggest health variable controlled by a pet's caregiver.
This fact is not lost on us here at Noank-Mystic Veterinary Hospital. During your pet's comprehensive physical examination, we can evaluate his or her body condition and give nutriton and feeding recommendations based on what we see.
For most pets, our recommendations will include information on proper serving size and other feeding strategies to maintain optimal body weight and nutritional health. We will also help you wade through the claims made by pet food producers so you can make the most informed choice.
Prescription Diets
Some pets have more serious nutritional challenges or chronic conditions that can benefit from a special diet. If we identify an issue in your pet, we will offer advice and provide information about diets that benefit specific medical conditions such as liver disease, bladder and kidney stones, renal failure, food allergies, diabetes and other conditions.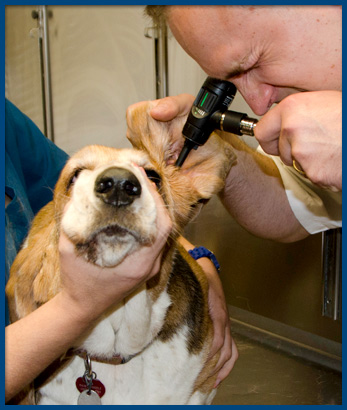 We carry a diverse inventory of prescription foods. If your pet requires a prescription diet we do not carry, we may be able to order it for you.
Allergy testing and Immunotherapy
If left untreated, allergy-related conditions can fester and become serious health concerns for your pet. Therefore it is important to be able to identify the first signs and symptoms of allergies and dermatological conditions. These include:
Inflamed ears
Hotspots, especially those that recur
Scratching or rubbing the eyes or mouth area
Flaking
Lesions on the skin
Hair loss
Red itchy bumps on the skin
Asthma-like wheezing or respiratory issues
All of these can indicate a serious reaction to allergens such as fleas, pollen, dust and various foods. If you notice any of these issues it is important that you bring your pet in.
We will take the time to explain your pet's condition, how to prevent future occurrences and the proper method of home treatment.
Hours:
MON, TUES, WED, FRI 8-6 | THU 8-7 (8-2 every other THU) | SAT 8-2 | SUN 8:30-12:30