Newsletter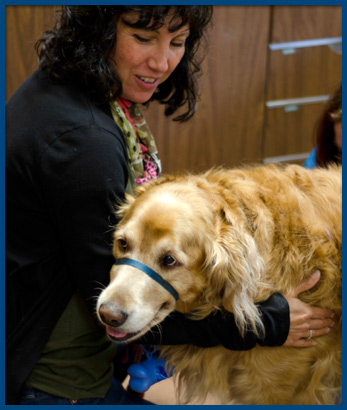 The veterinarians and staff at the Noank-Mystic Veterinary Hospital are pleased to provide you with an online newsletter. This fun and fact-filled newsletter is updated on a regular basis.
Included in the newsletter are articles pertaining to pet care, information on our animal hospital, as well as news on the latest trends and discoveries in veterinary medicine.
Please enjoy the newsletter!
Current Newsletter Topics
How To Keep Your Pet Safe This Holiday Season
Holiday season adornments are attractive to all creatures. The ornaments, foods, gifts, wrappings, ribbons, lights and plants are all curiosities for pets. Pets investigate new items by sniffing, tossing, chasing and finally by tasting. A few precautions are necessary to avoid the holiday crowds at the veterinary hospital.
Behold! Everything Looks Delicious
The most common problems this time of year are stomach or intestinal disturbances caused by pets eating the holiday feast or other novelties. Scraps from the table can cause gastrointestinal upset and even predispose pets to life-threatening pancreatitis. Bones can get stuck in the mouth or perforate the intestines and should be avoided. Chocolate is poisonous to cats, dogs and birds. Plastic wrap and aluminum foil (coated with good-tasting juices) are enticing but can cause intestinal damage and even blockage if eaten by your pet.
Other sweet treats like gum and hard candies can also make your pet ill. Sugar-free candies and gum are made with xylitol, a sugar substitute that can cause a drop in blood sugar, depression, loss of coordination and seizures in your pet. Xylitol is also linked to liver failure in dogs. Be sure to keep all candies, chocolate and other sweets out of your pet's reach. If you believe your pet may have ingested chocolate or candy, call your veterinarian immediately.
Be sure to properly dispose of leftovers and wrappers. Feed pets their usual diet. Treats formulated similarly to the pet's regular diet are generally healthy and safe. Also keep in mind while cooking that pets may not know about hot stoves or to stay out from underfoot. Keep pets away from the stove so they don't get burned or have hot foods spilled on them.
Holiday Plants and Decorations
Several decorative plants are poisonous. Mistletoe and holly can cause stomach upset with vomiting and diarrhea. The berries of these plants are attractive, easily swallowed and potentially fatal if consumed. Poinsettias, like the leaves of most any plant, can also cause stomach upset. Use artificial mistletoe and holly, and keep other plants out of your pet's reach.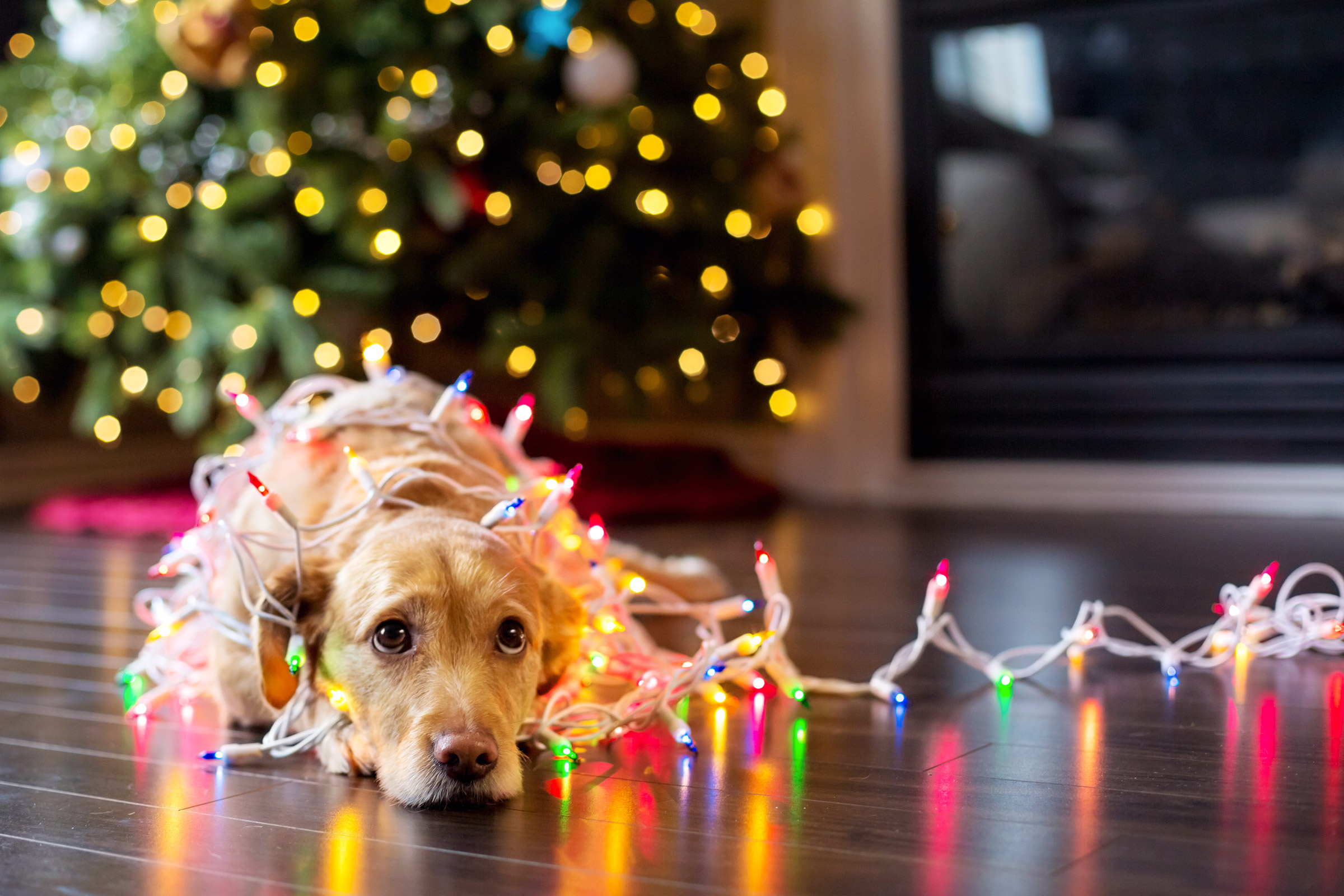 Make sure Christmas trees are secured so pets can't pull them over. Omit preservatives from the tree-stand water and cover the tree well so pets don't drink from it. Don't spray fake snow on the tree unless it is labeled safe for pet consumption. Angel hair is spun glass and is irritating to both the inside and outside of your pet. Even glass ornaments and ornament hooks have been chewed and swallowed. These objects can cause problems from stomach upset to damaged intestines. Low-hanging ornaments are a real temptation, as are tinsel and electric lights. Decorative lights and electrical wiring can cause shock or burns when chewed, so remember to unplug holiday lights when pets are left unattended.
The Hustle and Bustle of Goings-On
Holidays have lots of activity. Be sure doors are not left open as guests come and go. Indoor pets inadvertently left outside could be injured by frostbite, cars or other animals. Ice-melting chemicals and salt on sidewalks and roads can severely burn foot pads and should be washed off right away. Also, watch that guests don't leave interesting objects such as chocolate, ribbons, stocking stuffers or other illicit treats, within your pet's reach.
If your pet does get sick, consult your veterinarian before giving any medications. Many of the over-the-counter drugs such as acetaminophen (Tylenol, Excedrin and ibuprofin), Advil and Motrin, are toxic for animals even though they are safe for us. Don't wait to see if your pet gets better. If your pet is acting sick, consult your veterinarian immediately.
Canine Influenza: Your Questions Answered
• What is canine influenza?
Canine influenza is a highly contagious respiratory infection of dogs caused by a virus. The canine influenza virus is closely related to the virus that causes equine influenza and it's thought that the equine influenza virus mutated to produce the canine influenza virus. Two clinical syndromes have been seen in dogs infected with the canine influenza virus - a mild form of the disease and a more severe form that is accompanied by pneumonia.
Mild form - Dogs suffering with the mild form of canine influenza develop a soft, moist cough that persists for 10 to 30 days. Some dogs have a dry cough similar to "kennel cough." For this reason, canine influenza virus infections are frequently mistaken for "kennel cough." Dogs with the mild form of influenza may also have a thick nasal discharge, which is usually caused by a secondary bacterial infection.
Severe form - Dogs with the severe form of canine influenza develop high fevers (104 degrees F to 106 degrees F) and have clinical signs of pneumonia, such as increased respiratory rates and effort. Pneumonia may be due to a secondary bacterial infection.
Because this is a newly emerging disease, almost all dogs, regardless of breed or age, lack immunity and are susceptible to infection. Virtually all dogs that are exposed to the virus become infected, and nearly 80 percent show clinical signs of disease. Fortunately, most affected dogs have the mild form.
• Do dogs die from canine influenza
Fatal cases of pneumonia resulting from infection with canine influenza virus have been reported in dogs, but the fatality rate (5 percent to 8 percent) has been low.
• How widespread is the disease?
The first recognized outbreak of canine influenza in the world is believed to have occurred in racing greyhounds in January 2004 at a track in Florida. From June to August of 2004, outbreaks of respiratory disease were reported at 14 tracks in six states (Alabama, Arkansas, Florida, Kansas, Texas and West Virginia). Between January and May of 2005, outbreaks occurred at 20 tracks in 11 states (Arizona, Arkansas, Colorado, Florida, Iowa, Kansas, Massachusetts, Rhode Island, Texas, West Virginia and Wisconsin). Infection has also been confirmed in pet dogs in California, Connecticut, Florida, Georgia, Massachusetts, North Carolina, New Jersey, New York, Ohio, Oregon, Pennsylvania, Washington State, and Washington, DC. It is now found in most states in the continental U.S.
• How is a dog with canine influenza treated?
As with any disease caused by a virus, treatment is largely supportive. Good animal care practices and nutrition assist dogs in mounting an effective immune response. In the milder form of the disease, a thick green nasal discharge, which most likely represents a secondary bacterial infection, usually resolves after treatment with antibiotics. In the more severe form of the disease, medication and hospitalization are often required.
• Is canine influenza virus transmissible from dogs to humans?
To date, there is no evidence of transmission of canine influenza virus from dogs to people.
• Do I need to be concerned about putting my dog in day care or boarding it at a kennel?
Dog owners should be aware that any situation that brings dogs together increases the risk of spread of communicable illnesses. Good infection control practices can reduce the risk of infection, however, the risk still exists.
• My dog has a cough. What should I do?
Schedule an appointment with your veterinarian so that he or she can examine and evaluate your dog and recommend an appropriate course of treatment. Canine influenza virus can be spread via direct contact with respiratory secretions from infected dogs, and by contact with contaminated inanimate objects. Therefore, dog owners whose dogs are coughing or exhibiting other signs of respiratory disease should not participate in activities or bring their dogs to facilities where other dogs can be exposed to them. Clothing, equipment, surfaces and hands should be cleaned and disinfected after exposure to dogs showing signs of respiratory disease to prevent transmission of infection to susceptible dogs. Clothing can be adequately cleaned by using a detergent at normal laundry temperatures.
• Is canine influenza transmissible to from dogs to horses or other animal species?
At this time, there is no evidence of transmission of canine influenza from dogs to horses, cats, ferrets or other animal species.
Laboratory Tests Explained
Looking at the results of laboratory tests done on your pet can be very confusing, overwhelming and at times, even frightening. As your pet's caregiver, it is important for you to have a general understanding of laboratory tests and what their results mean. This information can be valuable when it comes to deciding medical treatment options that are important as well as available for your pet.
Generally, in order to conduct a test a sample of your pet's blood and/or urine is collected. Once collected, it can be stored in various kinds of tubes to help preserve the sample and provide the laboratory technicians with a clean specimen.
So what does it mean when your veterinarian says she needs to run some blood work on your pet? Blood work (pre-surgical or otherwise) is usually a combination of a complete blood count (CBC) and a blood chemical analysis. Blood work is a basic evaluation tool. It also helps your veterinarian diagnose a pet's disease or monitor the progression of a disease. The cellular elements of the blood are examined in the CBC. The CBC determines the number of erythrocytes (red blood cells), the number and type of leukocytes (white blood cells), the number of thrombocytes (platelets), the hemoglobin level and the hematocrit (packed cell volume or PCV). Erythrocytes carry oxygen throughout the body. Leukocytes fight infection and are part of the immune system. Platelets are clotting proteins and can indicate how fast your pet's blood clots; slow clotting can be a serious problem. A CBC can tell your veterinarian if your pet has an unusual number of red blood cells, white cells or platelets. The numerical values for these cells can indicate if your pet's health is improving or deteriorating.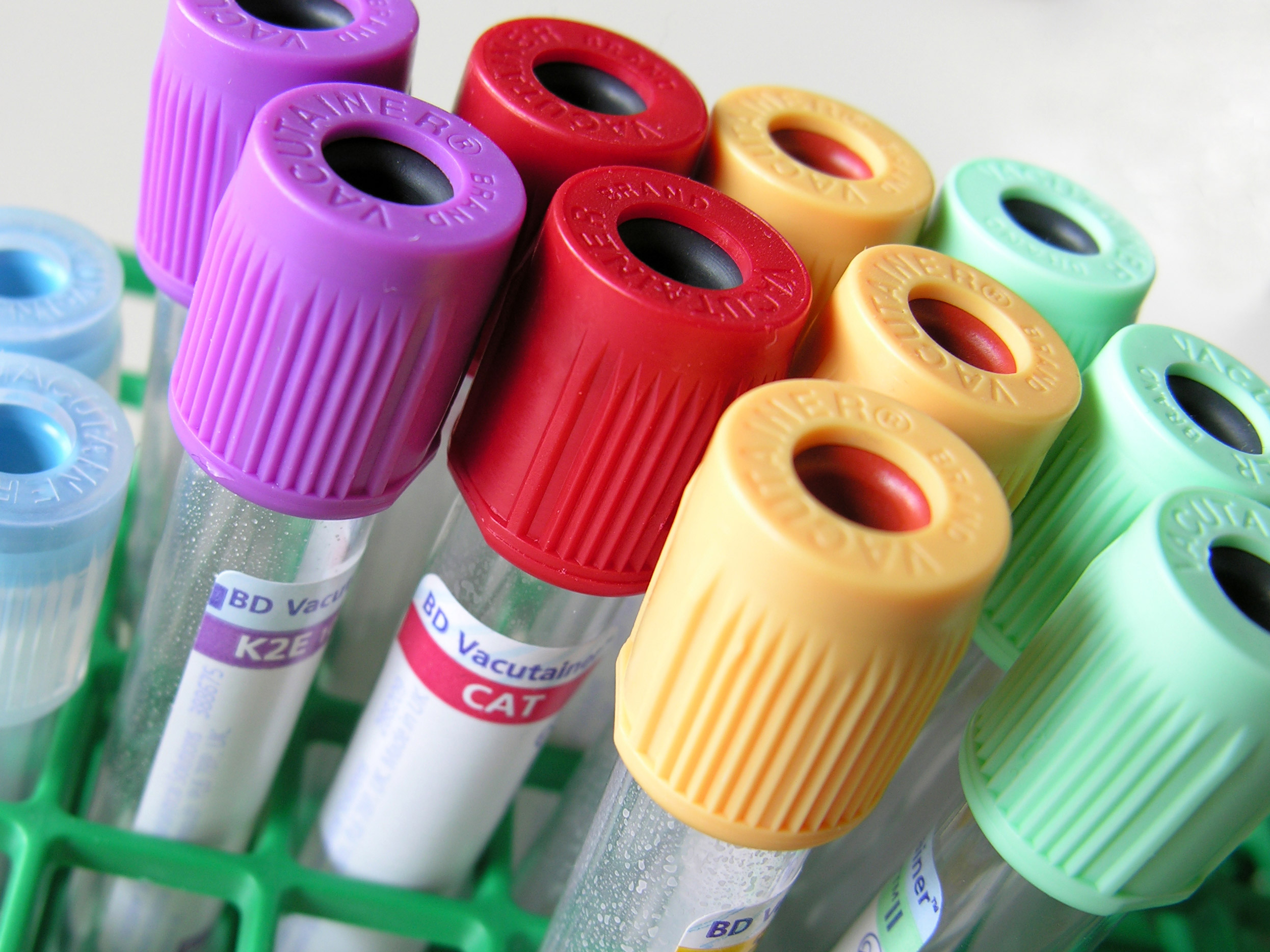 The results of a chemistry panel can indicate how well your pet's kidney and liver are functioning and the level of electrolytes in the blood. The chemistry panel usually includes the following tests:
• Alkaline phosphatase- Used extensively as a tumor marker, it is also present with liver injury, bone injury, pregnancy, or skeletal growth (elevated values). Growing animals have normally higher levels of this enzyme. Low levels are sometimes found in protein deficiency, malnutrition and a number of vitamin deficiencies.
• Alanine transaminase- Increased levels are seen in liver damage, kidney infection, chemical pollutants or myocardial infarction.
• Bilirubin (total)- Elevated in liver disease, hemolytic anemia, low levels of exposure to the sun and toxic effects to some drugs. Decreased levels are seen in people with an inefficient liver, excessive fat digestion and possibly a diet low in nitrogen bearing foods.
• Blood urea nitrogen- Increases can be caused by excessive protein intake, kidney damage, certain drugs, low fluid intake, intestinal bleeding, exercise, or heart failure. Decreased levels may be due to a poor diet, malabsorption, liver damage or low nitrogen intake.
• Creatinine- Low levels are sometimes seen in kidney damage, protein starvation, liver disease, or pregnancy. Elevated levels are sometimes seen in kidney disease due to the kidneys job of excreting creatinine, muscle degeneration and some drugs involved in impairment of kidney function.
• Glucose- Elevated in diabetes, liver disease, obesity, and pancreatitis due to steroid medications, or during stress. Low levels may be indicative of liver disease, overproduction of insulin or hypothyroidism.
• Total protein- Decreased levels may be due to poor nutrition, liver disease, malabsorption, diarrhea or severe burns. Increased levels are seen in lupus, liver disease, chronic infections, leukemia, etc.
• Albumin- High levels are rarely seen and are primarily due to dehydration. Low levels are seen in poor diets, diarrhea, fever, infection, liver disease, inadequate iron intake, third-degree burns and edemas and hypocalcemia.
Holiday Pet Tip: No Sweets For Your Sweet Pet
For many people, overindulging in holiday goodies may result in a few extra pounds; however, the consequences for our animal companions are much greater if they accidentally ingest cookies, candy or baked goods containing chocolate. In any form ranging from one-ounce baking squares to brownies, chocolate contains theobromine and caffeine, both of which can cause stimulation of the central nervous system, an increase in heart rate and tremors. Clinical symptoms such as vomiting, diarrhea, seizures, hyperactivity and increased thirst. Urination and heart rate can be seen with the ingestion of as little as 1/4 ounce of baking chocolate by a 10-pound dog.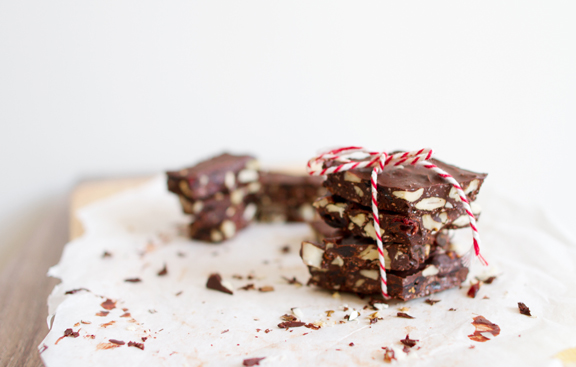 Veterinary poison and emergency center across the country seem to receive more calls involving chocolate toxicosis during Halloween, Thanksgiving, Christmas, Valentine's Day and Easter. During one Thanksgiving holiday, an 18-pound cocker spaniel consumed an 18-ounce box of milk chocolate truffles. By the time the owners brought the dog to the veterinary emergency center, she had already vomited several times and was drinking large amounts of water. The emergency clinician worked in conjunction with the dog's veterinarian to provide emergency treatment, which included activated charcoal, intravenous fluids and medication for her elevated heart rate. She'd recovered by the next morning, but spent the day in doggie day care to make sure she didn't have further problems.
Although chocolate toxicosis is more common in dogs who have been known to eat candy and trays of brownies and fudge accidentally left out, it can be a potential problem with any species. Take care this holiday season and keep candy out of your pets' reach - and don't let them in the kitchen unsupervised when you're baking. If you suspect your pet has eaten chocolate, call your veterinarian immediately.
Winter Tips for Pets
It won't be long until the temperature drops off, the sky turns grey and the snow starts to fall. Winter can be a fun time for pets to explore, but as a pet owner, you should keep in mind a few things to make sure they stay healthy and safe during this time of year.
Don't Overestimate the Warmth of Fur
Pets with thicker coats can handle colder temperatures better than shorter-haired animals. But don't think that just because a pet's hair is long that they're completely insulated from the cold. If a pet's coat gets wet, the fur loses its insulating ability. Keep a towel handy to dry off your pet after a romp in the snow, and make sure that they have access to a dry and draft-free shelter on the cold days.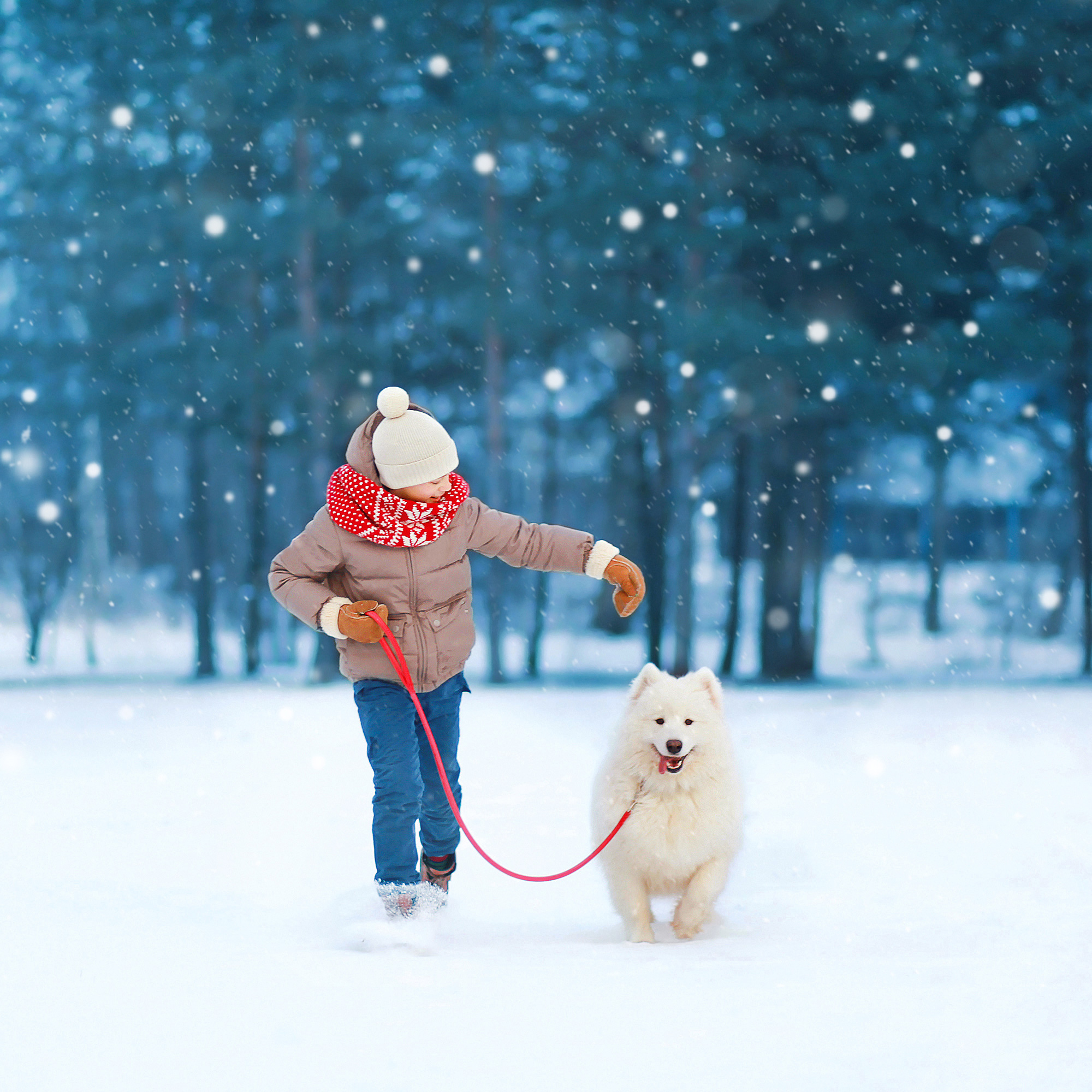 Dressing Your Pet with a Jacket Can Help…to a Degree
Dogs can be very cute dressed in their vest or jacket during the winter months. These fashionable items look great and can help keep your dog warm, but don't consider them to be the equivalent of a parka. Keep a close eye on your dog and never assume because they have on a jacket, they're invincible to the frigid temperatures.
As for your cat: it's hard enough to get them in their travel carrier. Even if you are able to get a jacket or vest on them, it's very likely they're going to spend all their energy trying to get it off. You can probably skip this step.
Protecting your Puppy or Senior Pet Means keeping Them Indoors
As much as your new pet might want to go outside and run around on colder days, it's best to limit their time in the snow or cold. They don't have the fat, metabolism or full coat to handle frigid temperatures as adult pets do.
Your senior pet may have spent winters in the past enjoying the brisk temperatures and playing as the snow falls. But as they age, recognize that they aren't as strong as they once were. This doesn't mean they can't be outside and play, just be conscientious of time and make sure they have plenty of warm blankets and treats when they come indoors.
Hours:
MON, TUES, WED, FRI 8-6 | THU 8-7 (8-3 every other THU) | SAT 8-2 | SUN 8:30-12:30